Project Management Essentials
A Practical, Multimedia Curriculum for Homeschool Teens and Their Families
by Marc Carrier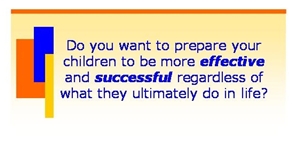 Now homeschool parents have a resource designed to prepare their young adults for whatever the Lord may have in store for them. Regardless of whether they become career professionals, business owners, homemakers, or missionaries, Project Management Essentials will give them the knowledge and practical wisdom they need to be as effective as they can be in all of their pursuits.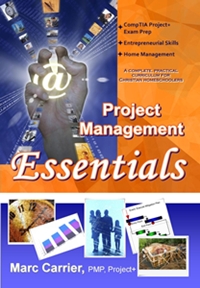 Project Management Essentials is a complete multimedia curriculum, designed to empower Christian homeschool students ages 16 and up (and, of course, their parents), to leverage proven project management best practices to become strategic planners and practitioners in any endeavor they encounter. The curriculum likewise prepares the student to take the CompTIA Project+ project management professional certification exam. Yes, practical skills and professional certification to differentiate them in this competitive job market!
Watch the trailer on YouTube:
What is included in this training course?
Over 6 hours of DVD instruction* (for computer or television viewing), including Power Point presentations and videos

The 280-page, hardcover

Project Management Essentials

text book, including quizzes, a sample exam, and other features

Presentation slide handouts

All of the DVD audio in MP3s

The

Values-Driven

®

Home Management Bundle

An advanced Microsoft Excel budget tool

Dozens of templates in native file formats
What is a project?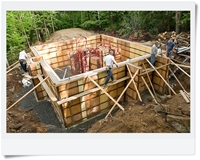 A project is any endeavor that is temporary and unique. Yes, that constitutes just about everything, from planning a wedding to building a house, planting a garden--even parenting. Project management
principles provide a solid foundation of thought processes, knowledge, and skills that can indeed help you to become more effective at everything you do!
What is covered in this curriculum?
●Vision and Goal Setting
● Planning and Organization
●Risk, Quality, Communication, Procurement,
and Resource Planning & Management
● Team Building and Problem Solving
● Budgets and Schedules: Home and Business Essentials
● Project Execution and Control

"I have offered a subset of these materials to the business community in a 3-day, instructor-led venue for over $1,000 per student for several years now. Now, because I know what a blessing these principles have proven professionally, for my family, and for my ministry, I decided to package it for you, the Christian homeschool community, at a value of $124.99!"

-- Marc Carrier (PMP, Project+); author of the Project Management Essentials training course
About the author
Marc Carrier is a seasoned Project Manager whose experience spans multiple disciplines and includes multi-million-dollar corporate clients. He is a certified Project Management Professional (PMP), the highest industry certification available, and has acquired CompTIA certifications for Project+ and CDIA+. He is also a corporate training developer and instructor. In addition to his professional credentials, Marc is the homeschooling father of seven, an author, missionary, and the owner of Values-Driven, a ministry designed to help Christian families to make the most of every opportunity.
$124.99
* Please note: to keep your cost low we use DVD+R duplication. This is 100% compatible with all DVD-ROM drives (for computer viewing) and is compatible with over 90% of commercial DVD players. To confirm that your model can play DVD+R discs, visit http://www.videohelp.com/dvdplayers.