Early Elementary Ebook Bundle
An Almost-Complete Curriculum of Ready-Formatted Public Domain works
Compiled by Cynthia Carrier
| | |
| --- | --- |
| | Overwhelmed by curriculum choices for K-3? |
| | Short on finances? |
| | Not enough time to surf the Internet for all of those great free resources that are available? |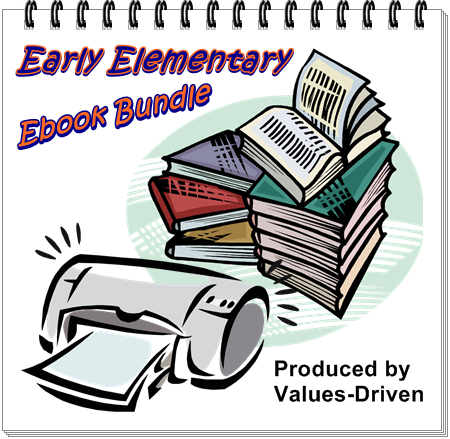 Here's where the Early Elementary Ebook Bundle comes in! We've done the work, so all you have to do is print and put these ebooks into a binder or folder for use in your homeschool. Covering almost every subject area that you will need, these ebooks can be used for independent study or family read-alouds for children in grades K through 3.
As Marc said in his Home Management Nuts and Bolts seminar, with every project (including homeschooling!) we parents have to balance the vital elements of time, money, and quality. Sometimes we're short on money and have to do more ourselves, which means an over-investment of time. During other seasons of life we may be working more, so we pay to out-source tasks and save on time. Then there are those times when money and time are in short supply, so the quality suffers!
None of us wants to sacrifice quality in our homeschool curriculum. Yet, this economy doesn't permit most of us to spend as much as we'd like on materials. So maybe you, like us, are turning to sources like public domain books that you can get for free and print yourself at home. But that demands quite an investment of time. You have to find the best books, preview them, and then format those pages for optimal printing to save on ink or toner.
We'd like to give you the gift of TIME with a comparatively small investment of money, providing you with quality, ready-to-print files that you can use in your homeschool. Here is what is included in this low-cost bundle:
| | |
| --- | --- |
| | McGuffey's Eclectic Primer (65 pages) |
| | Word Study and English Grammar (Frederick Hamilton, 42 pages) |
| | First Lessons in Geography (James Monteith, 71 pages) |
| | History of Ancient Civilization (Charles Seignobos, 132 pages) |
| | The Beginner's American History (D.H. Montgomery, 155 pages) |
| | General Science (Bertha Clark, 170 pages) |
| | A Textbook of the History of Painting (John C. VanDyke, 125 pages) |
| | The Book of Art for Young People (Agnes and Sir Martin Conway, 57 pages) |
| | Music Talks with Children (Thomas Tapper, 59 pages) |
| | Practical Mechanics for Boys (J.S. Zerbe, 101 pages) |
| | Plus--BONUS! 13 .PDF copywork pages of selected excerpts from the Sermon on the Mount (Matthew 5 and 6) |
These are instantly downloadable as individual .PDF documents, with minimized margins for ideal printing (.75" on the left and .25" on top, right, and bottom). All graphics are grayscale and optimized in size.
All of these works are available for free in the public domain at websites like www.Gutenberg.org. However, formatting these for our own use took many hours of work. We want you to have the content and save precious time in your busy schedule--so grab this bundle today for just $6.95!
$6.95