The Values-Driven Family
Third Edition
by Marc and Cynthia Carrier

Do you want to maximize your effectiveness as a parent and experience God's best for your family?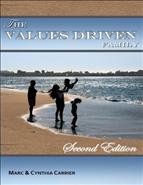 The Values-Driven Family is the one resource you need--easy-to-read and apply!
Simple yet comprehensive, The Values-Driven Family gets to the heart of Biblical parenting by focusing not just on our day-to-day "doings," but also on the "being" of who we are in Christ and how we can consistently glorify God in all that we do.
More than a cookie-cutter approach, The Values-Driven Family helps you to focus on the things that are of greatest value to God, and equips you with practical and effective tips and strategies in all areas of family living, from child training to Biblical instruction and character training, family relationships, decision-making, risk management, and more.
Read what others have to say:
View the Table of Contents and Preface.



Related Blog Posts:
Encouraging your Children with the Core Value Progress Chart
"System Restore" to the Rescue!
Related Articles:
Maintaining a Positive Home Atmosphere
The Softer Side of Child Training
Marc's Interview (audio) about VDF on "Grace Talk Soup"