The Church in the House
A Return to Simplicity
Robert Fitts


All over the world, millions of Christians are feeling God's call to return to the simplicity of the Church in the House as the vehicle to most effectively expand the kingdom. Now you too can join the revolution to help fulfill the Great Commission in this generation.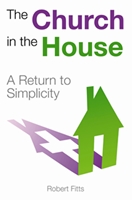 The Church in the House is an exciting and fruitful plan for bringing in a great harvest. Start a small prayer group and share the vision for a network of simple churches that meet in homes, parks, offices, coffee shops, or wherever. Simple churches are being planted increasingly and powerfully in China, India, Africa, Latin America, and around the world and multitudes are coming to Jesus, like no other time in history. Join the mission.

Robert Fitts travels, writes, and teaches to help awaken the Body of Christ in the areas of planting simple churches and the baptism in the Holy Spirit for ministering in divine healing, miracles, signs and wonders. For more information visit his website at www.robertfitts.com.


For larger quantities with an evangelism shipping discount, please email us at sales (at) valuesdrivenfamily (dot) com.

This book is published by Values-Driven Publishing. For more information on how you can get your Great Commission-oriented works to market at the lowest cost and best value, visit www.ValuesDrivenPublishing.com.