Keys to Kingdom Expansion
Truth, Freedom, and Power

by Marc Carrier
Do you want to be the spark that starts a wildfire of Kingdom expansion? This is your opportunity!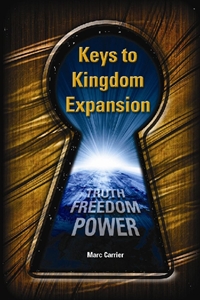 Time is short. We are living in the second-to-last scene of history and God is mobilizing an army of soldiers for one last burst of revival to gather in the harvest. The Great Commission is now within our reach. Here are the deployment orders and battle plans for bringing in the harvest.
This book is available for FREE as an ebook. Download the ebook instantly! Or, purchase a pocket-sized copy for your library or for evangelism purposes.
We regularly give this book away, often by the dozens, at homeschool conventions where we exhibit and speak. If you wish to contribute to this aspect of our ministry, you may choose to donate more than the suggested $2 for yor print copy.
ebook 4" x 6" book
For larger quantities with an evangelism shipping discount, please email us at sales (at) valuesdrivenfamily (dot) com.