A White Stone
by Jim and Merry Corbett
"Igniting the Hearts of Spiritually Overcoming Believers throughout the World"
Have you ever wanted to be so close to Jesus that you could remember His fragrance? Have you ever desired to know for sure that you are noticed by Him and have found eternal favor in His heart? Well, if you desire to be a spiritual overcomer, as Jesus was, find your favorite chair, brew your preferred cup of coffee, and prepare your heart for one of those delightfully memorable life experiences.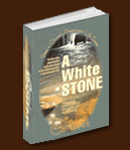 The captivating novel, A White Stone, will sweep you away to warm, honest places with your Lord. Prepare to relive your most treasured moments with Jesus, as you lose yourself in His trusted arms; and allow the cares of your life to be erased and replaced page by page with His overwhelming love, complete acceptance, and intimate whisperings.
A White Stone will take you on an exciting adventure as you link hearts with memorable characters such asTom Bracken, Train, and Crystal, and join them as they experience first love wonder and warm intimacy with the One who loves them most. Travel with them as they are challenged to live in holy alliances and true covenant relationships, in response to the end-time call of the Holy Spirit to exhibit the character of Jesus Christ in an increasingly perilous world that threatens their very existence. Rejoice with them as you witness the merciful, life-changing intervention of the Lord in each of their lives.
Experience the thrill of the power of the cross as it transforms the likes of street fighters, proud businessmen, and cold pastors into valiant, Christ-like warriors who lead significant lives in the eyes of the Lord. Watch as others, who seem to have it all, wilt away with no power to overcome in their business-as-usual religion. As you are guided through this candid, eye opening, and sometimes chilling look at where today's headlines are leading when played to their conclusion, you will find the Lord lovingly ministering to your heart and revealing the path He has determined for your own life as you are challenged to surrender fully to Him.
A White Stone is far more than a novel. It is a piercing exposé of how things are, how they very well could be, and how a loving Father God meets those who call upon Him in their need and forever changes their lives. You will laugh, gasp, cry, and possibly find yourself repenting of a mediocre relationship with Jesus as you read and experience the wonder of the Lord and His love for you.
A White Stone will rebuild your confidence in Father God, refresh your heart, reestablish your hope for the future, make you fall in love with Jesus all over again, help you realign your priorities; and reignite the wonder of the life of freedom that was won for you at the cross. You need to come home again to Jesus through this inspirational page turner!
Paperback, $10.00